POVIDONE-IODINE POWDER
Shake & Use Povidone-Iodine Powder-Blend formulation. Revolutionizing the International Antiseptic Products Arena.
POVIDONE-IODINE
Our Povidone-Iodine Powder blend is proportionally formulated based on our Instant Powder technology, which makes it an easy "Shake & Use" product.
After our Powder premix is added to a calculated volume of water, it is reconstituted equal to US Pharmacopeia 10% Povidone-iodine.
ON THE SPOT
Povidone-Iodine powder can be freshly made on the spot in Military field-hospitals, regular hospitals, at pharmacies, at home, during outdoor hiking trips, etc. on an "as needed" basis.
No need to carry around a bottle with Povidone-Iodine solution. Only one sachet Povidone-Iodine powder is sufficient.
DURABILITY
With the Povidone-Iodine powder premix we eliminate the need to ship water based product all over the world. Ratio: 4.350 kg of the Instant Povidone-Iodine powder Solution equals 25.000 liters of liquid Iodine solution.
Clearly a positive influence on reducing the Carbon foot-print at finished product transportation.
Instant powder for Povidone-Iodine 10% USP solutions
The instantly reconstituted Povidone-Iodine Iodine solution is equivalent to the US Pharmacopoeia described Povidone Iodine solution.
The ForTe Instant Povidone-Iodine powder premix has easy "Shake & Use" properties and is very suitable to be reconstituted "on the spot" into a conventional Povidone-Iodine solution in various volumes

Where the composition allows aqueous reconstitution of virtually any finished product volume and/or Povidone Iodine concentration. Simply by calculating an alternate volume of water required for reconstitution. Moreover, the composition is also suitable as a bulk blend for easy and efficient manufacturing of conventional Povidone-Iodine solutions

Developed to reduce expensive storage space and logistic costs by eliminating transport of large quantities of water. Thus creating the possibility for low-cost transport to remote areas without squandering valuable product shelf life
Proprietary specialty product
We have reformulated conventional Povidone Iodine 10% topical solutions into a robust proprietary specialty product. And created a proportionally formulated Povidone Iodine containing Dry Powder Pre-mix composition ready for instant aqueous reconstitution into topical Povidone-Iodine 10% solutions, for Professional and Consumer use as a First Aid Antiseptic, compliant to the United States Pharmacopeia.
We made use of our proprietary technology and developed the instant formulation with a deep understanding of topical liquid Povidone Iodine formulations. Hence, anticipating on our insights to how we significantly could improve important aspects of current Povidone Iodine formulations as 1st Aid Antiseptics.
Existing liquid-based iodine's for skin and wound disinfecting purposes generally have a limited shelf life, are bulky/costly to ship and also not easy to manufacture. As a result, these solutions pose difficulties to maintain consistent disinfecting properties, are more costly than necessary to customers and are difficult to use in remote field situations.
The environmental footprint of conventional Iodine solutions is large due to the worldwide transportation of high volumes.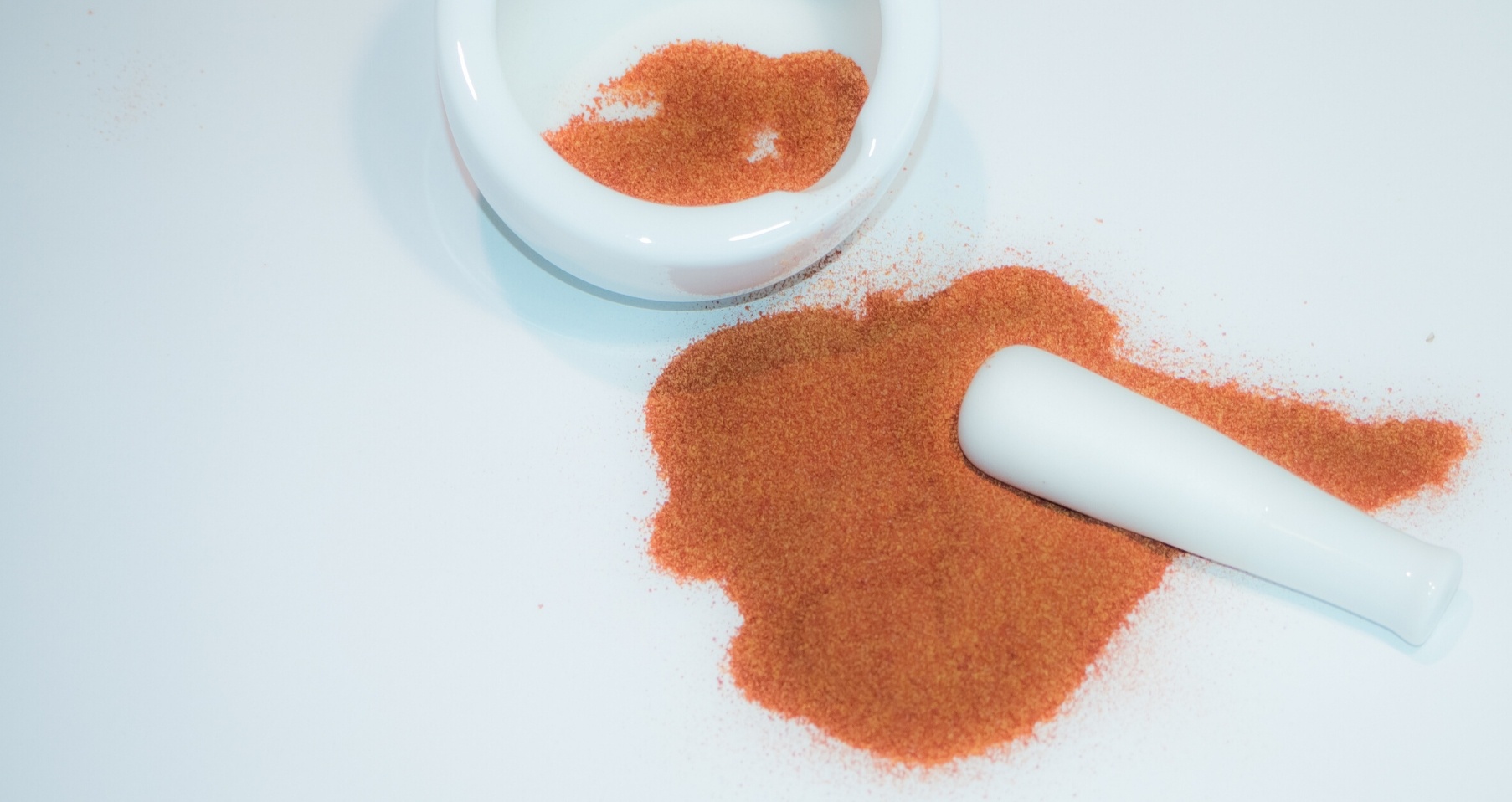 Extended product shelf life; cost effective and environmentally friendly.
With the Povidone-Iodine premix composition we established an extended shelf life, up to 5 years packed in pouches/sachets, and after reconstitution can add an extra year. This extended shelf life significantly contributes to having a very cost-effective solution for Non-Governmental and Governmental organizations like Unicef, the Military, hospitals, etc.
The Povidone-Iodine bulk-blends make it possible to manufacture ready liquid Povidone Iodine solutions in only 40% of the time required in a conventional manufacturing process.
With our Instant powder composition there is no need to transport and store bulky ready liquid product (water). There's no risk of iodine leakage during transport. Transportation costs will be a few percent of transportation of conventional Iodine liquid products. And transport to remote areas is more economical due to reduced bulk/volumes.
Povidone-Iodine Powder can make a real difference.
In a time where sustainability is more and more important, we want to contribute our part. Combining Povidone-Iodine with our Instant Dry Powder Technology we make it possible to reduce the transportation of water-based liquids. Assisting the creation of products with an extended shelf life and reduced in-store shelf presentations. Our technology contributes to the reduction of waste and can make a change in the use of products; "Shake & Use only the volume you need results in less waste". Povidone-Iodine Powder can make a real difference.